Intravenous (IV) and Injection Therapy
Vitamins and minerals are essential to the normal functioning of our bodies. They are necessary for our growth, vitality, and general well-being. They are involved in regulating metabolism, help convert carbohydrates into energy, and assist in forming soft tissue and bone. Usually we can get the right nutrients through our diet, however, sometimes even a great diet may not translate to proper nutrition at the cellular level. There can be many causes of this, which may include: poor digestion, food sensitivities, chronic inflammation, poor immune function, or chronic illness, or side effects from drug therapy.

IV involves the administration of nutrients in high concentrations to rapidly aid cellular healing by any of our lovely Naturopathic Doctors. Normally cells in the digestive tract facilitate the absorption of nutrients, however, in IV therapy, the digestive tract is bypassed with the direct infusion into the bloodstream. This allows the cells to rapidly obtain the nutrients needed to repair and regain strength.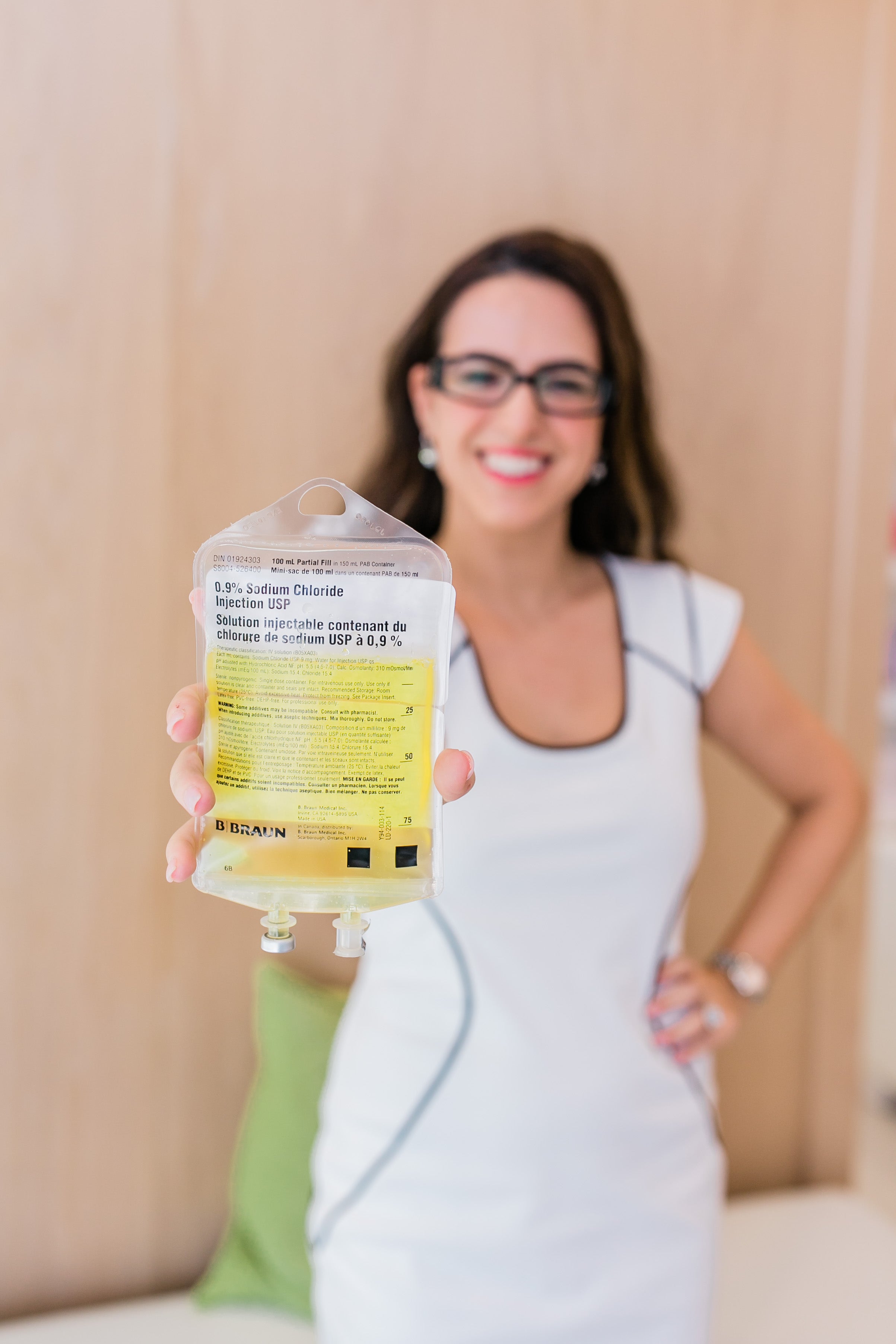 Conditions Treated
Overall Health
Detoxification

Liver support

Immune and energy boost

Weight-loss/metabolism support

Hydration

Premenstrual symptom (PMS)

Gut health

Preconception support (Men and Women)

Oncology support
Mood
Balanced mood support
Adrenal dysfunction & adrenal fatigue
Anxiety
Depression
Stress & irritability
Skin Health
Rosacea & redness
Collagen induction
Skin tightening
Skin firming
Psoriasis
Eczema
Vitiligo
Melasma
Pigmentation
Dull and dehydrated skin
Congested and inflamed skin
Fine lines and wrinkles 
Keratosis Pilaris
Frequently Asked Questions
What is IV Therapy?

IV therapy is a method of delivering customized hydration and nutrient replenishment directly to the body. This treatment involves the use of a compounded IV bag, which is inserted directly into the veins and circulatory system. Because the nutritional compound is delivered directly into the bloodstream, it does not need to be filtered through the digestive system, liver, and kidneys, resulting in immediate administration. When used in conjunction with a wellness program, IV therapy may aid in hydration, detoxification, pain and fatigue relief, and other benefits.
Who is IV Therapy For?

Nutritional IV therapy may be suitable for several individuals, including those with compromised digestive systems, those who avoid oral supplements, those who aim to replenish hydration and boost the immune system, those seeking to detoxify the liver and kidneys, individuals seeking increased energy levels, those who require relief from inflammation, lethargy, pain, and sports injuries, and those seeking additional support in their healthcare.
What's the difference between IV nutrition and oral supplementation?

When taking oral supplements, the nutrients are ingested, and then they pass through the digestive system and liver before entering the bloodstream. On the other hand, IV therapy involves the direct injection of nutrients into the circulatory system, bypassing the need for the nutrients to be filtered through the body. This means that the nutrients are administered instantly and do not require any waiting time for the body to process them.
I absolutely love the practitioners at NatCan! I have been seeing Dr.Lavleen for chiropractic services and I look forward to my appointments with her each week! She has such bright personality and is extremely knowledgeable and skilled. She never fails to help me feel my best and leave each appointment with a smile!

Reshma Seegobin

Chiropractic Doctor Lavleen Pabla is simply the best! She is knowledgeable, professional, friendly, and passionate about her role. She truly takes the time to understand, assess and develop a treatment plan best suited to your needs. No cookie cutter treatment. Would recommend!

Jackie M

This is my first time seeing a naturopath and I have to say that the experience is amazing. From the first call to the appointments they are super friendly and helpful. Dr. Santos is very knowledgeable and takes the time to explain and genuinely cares about her clients

Ashley Sitsman

Always an amazing experience with Dr.Santos and the team!

Maria Angela

I have been seeing Dr Santos at this Wellness Centre for several months and she's been absolutely amazing. Her ability to always gain a holistic understanding of patients, encourage detailed testing before diagnosing have made her outstanding. She always takes plenty of time to ask questions, to actively listen and engage me in the decision process. I'd recommend Dr Santos to everyone.

Franco Domenichiello

I've been seeing Dr. Laveleen for my back, jaw and neck and seeing her has made a difference. She is great. Thank you Dr. Lavleen.

Kamal Parmar

Dr. Anita Sachdev has been instrumental in my cancer journey. My blood work, scans and tumours have been showing better and better results with each testing being done. My energy levels have remained good and with the diet and recommended supplements suggested by Anita my journey is positive! Thank you for your care, kindness and compassion that you have always shown me and my loved ones that have come with me as support.

Vanesa Gomez

Staff 5 ⭐️ Always friendly and super professional. Natcan is my choice! Naturopath, osteopath, physiotherapist and massage therapy. I've been a customer for 3 years. 👌

Cristiana Bettencourt

Just had one of the best massages in my life with Tamila! She is an extremely talented RMT and knows exactly what she's doing! My husband and I are very happy we found her. Thank you :)

CeeCee

I have been going to Dr. Lavleen from last year for chiro and my back has never been better! Highly recommend, she does a phenomenal job with treatment and one of the most pleasant people to chat with.

Viktor Surowiec